Hotels in Paros Island
Our top picks
Lowest price first
Nearest to
Best reviewed
Fast facts about Paros Island, Greece
| | |
| --- | --- |
| Accommodations | 1,698 properties |
| Popular hotel | Casa Di Roma |
| Popular area | Parikia |
| Nightly rates from | $23 |
4-star hotels in Paros Island
---
This charming hotel really was an exceptional find. I thought the low price was too good to be true, but when we arrived not only did the owner come to pick us up at the pier, but we found an adorable hotel with stunning sea views a lovely terrace and an absolutely fantastic bathroom including one of the most luxurious showers we have had in Greece. If you travel to ...
---
all the staff were charming and attentive - couldn't fault them. the room was large and airy with two balconies and a very comfortable bed. the towels could be bigger and the hot water was a bit temperamental - either scorching or cold. think they should spend a bit more effort on the gardens which were badly overgrown with weeds and everything needed dead-heading. al...
---
Our stay is amazing highly recommend if you want to relax on a private beach probably one of the best on the island with sun beds that you don't have to pay for! Facilities and room was as per photos. Staff were extremely friendly. We had a car so was able to drive to the main towns, if you are looking for a peaceful getaway this is a great place to stay and relax. Bre...
---
The property itself is GORGEOUS. The rooms are sparkly clean, very detailed decorations, great breakfast; and of all- the staffs' hospitality level is beyond amazing. Staffs at the reception, bar, everywhere had welcomed us like their own family and made us feel like we were somehow actually at home! My mama and I regretted so much that we only dedicated one day in P...
---
Narges hotel was great. Good location and really clean. We hired scooters from just down the road that allowed us to see the whole island. This was a great option. About 100m from the hotel is the main beach and a few really nice restaurants. Internet only in public areas but that was OK. Big bathrooms which was nice after having some really small ones. Pool area was b...
---
Me and my girlfriend were island hopping in the Cyclades this summer. Paros was our favourite island of the 4 we visited, and 9 muses was the tranquil oasis which made the island all the more better. The staff were kind and very helpful. The room was very clean, spacious and beautifully decorated. The hotel was a 5-10 minute walk into the town centre and a short walk f...
---
Very nice hotel. Superb location. Night Receptionist Fanis Moutos was extremely helpful and respectful. Jacques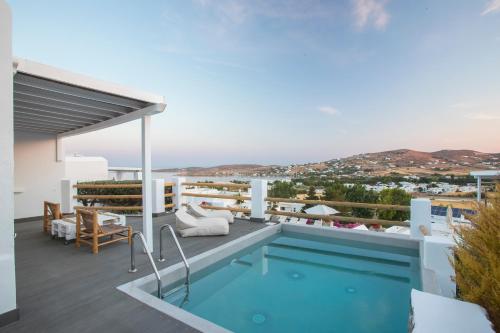 ---
Good location just out of the hub of town but still walking distance if you need to. The hotel itself was the postcard Greek island hotel and just beautiful. Would stay here again in a heartbeat.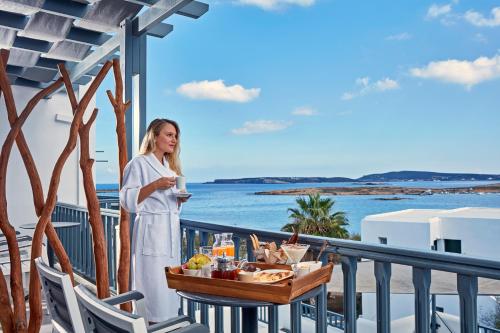 ---
Amazing hotel, clean and beautiful!! The hotel is located just 1 min from the beach, and 5 min walk from naussa center! Across the street there is a bus stop that goes 2 some of Paros best beaches. The room was amazing and so well designed! The balcony views the sea... The breakfast is great and is served to your room or any of the public areas with sitting space and o...
---
Luxury hotels in Paros Island
---
We had a spacious room with a private patio that had views of the water and Antiparos. The breakfast was very nice with lots of choice and we also had an enjoyable lunch on the day we arived. The pool is fabulous and we enjoyed a couple of swims and lounging around. The hotel is out of town and not well located to transport, although they do provide transfers to Parik...
---
Lovely room with private pool. Close walk to beach. Helpful staff and big breakfast selection.
---
We stayed in Honeymoon Villa 1. Beautiful accommodation, well laid out with everything you could need space wise. Few more posts and pans and things like a bottle opener would be good. But Daniel was really quick to iron out any issues and find us anything we needed. Facilities around the pool where great..plenty of choice for sunbeds etc. The pool is salt water which...
---
Real reviews for hotels
All the island is a tourist trap. Wherever you go the only language people understand is money. Even price is expensive the quality is poor ( food, motorbike rental, hotel…).
---
Paros Island hotels with breakfast
---
Frequently asked questions
What are the best hotels in Paros Island for couples?
Accommodations in Paros Island that are widely scored by couples include Casa Di Roma, KOKOON and Corali Hotel.
What are the top hotels in Paros Island for families?
Hotels in Paros Island that are exceptionally scored by families include Casa Di Roma, KOKOON and Corali Hotel.
What's the best neighborhood in Paros Island to stay in?
Well-known communities amongst vacationers staying in Paros Island include Parikia, Naoussa and Logaras - Pounda Beach.
What are the very best hotels found in Paros Island for business travelers?
Hotels around Paros Island which are well rated by business visitors are Casa Di Roma, KOKOON and Oasis Hotel Paros.
What resorts found in Paros Island are exceptionally rated with respect to facilities?
Resortsin Paros Island which is very highly rated for facilities include Akrotiri Hotel, Diplos Studios and Zoumis Residence.
What properties in Paros Island are exceptionally rated with respect to location?
Resortslocated in Paros Island that is very highly rated with regards to location include Diplos Studios, Viva Margarita and Zoumis Residence.
What are the most suitable hotels found in Paros Island that includes free parking?
Hotels offering free parking in Paros Island that are very highly rated include The old barn, in Naousa Paros, The old barn, in Naousa Paros and Olithos Villas.
What are some approaching holidays in Paros Island?
Upcoming holidays in city_name include Ochi Day (National Day) on 10/28/2023, Christmas Day (Christougenna) on 12/25/2023, and Second Day of Christmas on 12/26/2023.
How long should I plan my stay in Paros Island?
In the past 3 months, visitors remain in Paros Island for 2 nights on average. The best duration for your travel will be determined by what you'd like to see and explore while there.
Is evidence of vaccination necessary to enter Paros Island?
Proof of COVID-19 vaccination is not required to enter Paros Island from outside the country. For additional details, please contact local authority or check out here.
Is pre-departure covid test necessary for unvaccinated foreigners to enter Paros Island?
Proof of negative pre-departure COVID-19 test is not required to enter Paros Island. For updated and detailed information on travel restrictons, please make sure to check out the official websites of the travel authority or government of the country you wish to visit, or go to here.
What vaccines are accepted in Paros Island?
All vaccination types are currently recognized and approved by the national health authority of the country that includes Paros Island.
Explore more travel vacation rentals
More about Paros Island
Discover the Hidden Gems: Fun Facts about Paros Island, Greece
Paros Island is a hidden gem in Greece that is often overlooked by tourists. The island is located in the heart of the Aegean Sea and is known for its beautiful beaches, crystal-clear waters, and charming villages. But did you know that Paros Island is also famous for its marble? The island's marble quarries have been in operation since ancient times and have produced some of the world's most famous sculptures, including the Venus de Milo. Paros Island is also home to the Church of 100 Doors, a 4th-century Byzantine church that has exactly 100 doors. Another fun fact is that Paros Island is one of the few places in Greece where kiteboarding is possible due to the strong winds that blow in the area.
Reasons Why Paros Island Should Be Your Next Travel Destination
If you're looking for a beautiful and affordable travel destination, Paros Island should be at the top of your list. The island offers something for everyone, from stunning beaches and crystal-clear waters to charming villages and delicious food. Paros Island is also home to a vibrant nightlife scene, with many bars and clubs that stay open until the early hours of the morning. The island is also known for its world-class windsurfing and kiteboarding spots, making it a popular destination for adventure seekers. With its laid-back atmosphere, friendly locals, and breathtaking scenery, Paros Island is the perfect destination for a relaxing and unforgettable vacation.
How to Get to Paros Island: Your Ultimate Guide
Getting to Paros Island is easy and convenient. The island is located in the Cyclades, a group of islands in the Aegean Sea, and is easily accessible by ferry or plane. If you're coming from Athens, you can take a ferry from Piraeus Port, which takes about 4 hours. Alternatively, you can take a flight from Athens International Airport to Paros National Airport, which takes about 40 minutes. If you're coming from other islands in the Cyclades, there are regular ferry connections to Paros Island. Once you arrive on the island, you can rent a car, take a taxi, or use the local bus system to get around.
10 Fun Things to Do in Paros Island: A Traveler's Guide
Paros Island offers a wide range of activities and attractions for travelers. Here are 10 fun things to do during your visit: 1. Visit the Church of 100 Doors 2. Explore the charming village of Naoussa 3. Relax on the stunning beaches of Kolymbithres and Santa Maria 4. Go windsurfing or kiteboarding at Golden Beach 5. Take a boat tour around the island 6. Visit the ancient marble quarries 7. Enjoy the vibrant nightlife in Parikia 8. Visit the Frankish Castle in Parikia 9. Learn about the island's history at the Archaeological Museum of Paros 10. Take a day trip to the nearby island of Antiparos
Why Book Your Paros Island Hotel with Agoda.com
Agoda.com is the perfect platform to book your Paros Island hotel. With a wide range of hotels to choose from, you're sure to find the perfect accommodation for your needs and budget. Agoda.com offers competitive prices and exclusive deals, making it easy to find affordable and high-quality hotels in Paros Island. The platform also offers a user-friendly interface and easy booking process, making it easy to plan your trip and book your hotel in just a few clicks.
The Best Time to Visit Paros Island: A Seasonal Guide
The best time to visit Paros Island depends on your preferences and interests. If you're looking for warm weather and beach activities, the best time to visit is during the summer months of June to September. During this time, the island is bustling with tourists and the beaches are crowded, but the weather is perfect for swimming, sunbathing, and water sports. If you're looking for a more relaxed and peaceful vacation, consider visiting during the shoulder seasons of April to May or September to October. During these months, the weather is still warm and pleasant, but the crowds are smaller and the prices are more affordable.
Top Tips for Travelers Visiting Paros Island for the First Time
If you're visiting Paros Island for the first time, here are some tips to help you make the most of your trip: 1. Rent a car to explore the island at your own pace 2. Try the local cuisine, including fresh seafood and traditional Greek dishes 3. Bring comfortable shoes for exploring the island's villages and hiking trails 4. Pack sunscreen and a hat to protect yourself from the sun 5. Learn a few basic Greek phrases to communicate with the locals 6. Don't forget to bring your camera to capture the stunning scenery
Where to Stay in Paros Island: The Ultimate Accommodation Guide
Paros Island offers a wide range of accommodation options, from luxury resorts to budget-friendly guesthouses. Here are some of the best options: 1. Akrotiri Hotel - A luxurious hotel located in a quiet area of Parikia, with stunning views of the sea and the sunset. 2. Parian Village Beach Hotel - Adults Only - A romantic and peaceful hotel located on the beach, with beautiful gardens and a swimming pool. 3. Anna Platanou Hotel - A charming hotel located in the heart of Naoussa, with traditional Cycladic architecture and a rooftop terrace. 4. Hotel Aegeon - A modern and stylish hotel located in the center of Parikia, with comfortable rooms and a swimming pool. 5. Viva Margarita - A budget-friendly hotel located in the village of Piso Livadi, with clean and comfortable rooms and a family-friendly atmosphere.
What to Eat in Paros Island: A Food Lover's Guide
Paros Island is known for its delicious cuisine, which is based on fresh seafood, local produce, and traditional Greek recipes. Some of the must-try dishes include: 1. Grilled octopus 2. Fried calamari 3. Moussaka 4. Souvlaki 5. Tzatziki 6. Greek salad 7. Fava 8. Tomatokeftedes 9. Revithada 10. Baklava
How to Travel Around Paros Island: Your Complete Guide
Paros Island is easy to navigate and offers several transportation options. The most convenient way to get around is by renting a car, which will allow you to explore the island at your own pace. There are also taxis available, but they can be expensive, especially during peak season. Another option is to use the local bus system, which connects the main villages and beaches on the island. The buses are cheap and reliable, but they can be crowded during peak season. Finally, you can also explore the island by foot or by bike, which will allow you to enjoy the stunning scenery and get some exercise at the same time.