Where to stay in Khalkidhiki
---
4-star hotels in Khalkidhiki
---
Unfortunately the wifi is not free and not reliable. Beachchairs are charged extra, 15 euro for the day.
---
It s a good location, which combinate sea and swimming pool, very kind staff but the rooms are very old and have insects, which made our night very difficult. because of one insect, we couldn t sleep of its noise. The breakfast was good but one negative notice that the coffee that i want to drink i have to pay for it. Hotel is expensive in totally for that which offe...
---
Con-two beds instead of one, no free WiFi Pro-good breakfast, location
---
We happened to have stayed during the cyclone. The whole area lost power and water for two days. The hotel had no back up generator which would have alleviated this problem. Other hotels in the area were prepared. The only thing the hotel did was give us bottles of water and some small candles. At the end of checkout, no discount was offered for us going through this. ...
---
I came to this resort with my pregnant wife. During our stay I wanted to get an upgrade to our room which we were not fascinated by. Eventually, the staff at the reception agreed to give us a better room but only starting from the day after. Later in the day, I went to the reception again to ask if moving to the better room was possible. The staff did not realise th...
---
We booked our stay at Secret paradise last minute. Therefore it was good value. The spa was one of the main reasons we booked this hotel, however once we arrived we were told we could use the gym and pool in the coast but the use of the spa was an additional 10 euros each! Having chosen this hotel based on the spa we decided to pay the 10 euros each, however this was a...
---
We loved our time here! The hotel is perfectly situated in the town of Afytos, you can walk to tons of restaurants and shops. The pool is very nice, but there are also many beaches close by. The staff is very welcoming and helpful. Would definitely come back for another stay!
---
The hotel is situated on an amazingly beautiful beach. Turquoise waters and a luscious landscape. The hotel was very nice. The pool is good, although it's a shame it's not heated out of season. We stayed in a suite with outdoor Jacuzzi, the room was very modern, spacious and nice. The only downside to the room was having 2 single beds pushed together instead of ...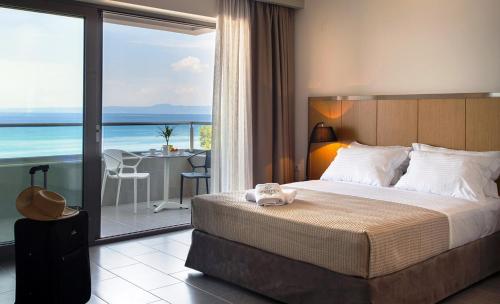 ---
Friendly staff and helpful, good location, very well cleaned, one of the best places for a vacantion
---
Luxury hotels in Khalkidhiki
---
Great location, good facilities overall, however... there's need to upgrade the room furniture - including the beds - as mine was extremely hard, in fact the hardest bed I have slept for a long time. Bathrooms need better plumbing as the toilet in my room was blocked in the second night of my stay, not a good look for a five star hotel. Other than that, the hotel and...
---
Amazing hotel, right on the beach! I was there with my husband for 6 night and we had the best time. Initially we planned to visit every day another beach on Kasandra, however when we saw how close and nice the private beach of the hotel was, we stayed entire time there. Sun beds are included in the price, so you do not need to pay extra. We had Breakfast and dinner in...
---
My husband and I stayed for 3 days with our friends. Lovely greeting by the reception staff on our arrival who showed us around the hotel and invited us for a free cocktail. Pool and views are spectacular. Lots of variety for breakfast but glad we didn't choose the all inclusive option as people we spoke to didn't seem to rate it and there are so many good restaurants ...
---
The hotel is very nice, albeit that we travelling in off season and therefore, it was not at it's best. The outside pool was closed due to the season and there was lots of maintenance taking place. We were not disappointed however, as it is almost expected out of season. The spa is good. My only criticisms would be the following; The AC in the room is not user frie...
---
This was our second time at the hotel and it was just as good as the first (if not surprisingly busier). Even fully booked the resort is so large not to feel overcrowded with plenty of space in the restaurants, (many) pools and private beach. We had a private pool as part of our suite and the staff were so accommodating they reduced the amount of chlorine in our po...
---
More about Khalkidhiki
Khalkidhiki is one of the 53 regions of Greece that travelers like to visit. Agoda.com offers incredible hotel deals in more than 12 cities in this Department. While in Khalkidhiki, be sure to visit Chalkidiki, Ammouliani, Paralia Dionysiou. Our website has been designed to help you discover exciting and interesting things to do and places to see. Whatever your appetite demands, you can find in one of many wonderful restaurants around the Department. With more than 2 million customer reviews, more travelers are choosing Agoda.com to book hotels in Khalkidhiki.