11 best hotels in Vitoria
Our top picks
Lowest price first
Nearest to
Best reviewed
4-star hotels in Vitoria
---
a very useful point this hotel has parking and is not far from city centre bad points is it is just starting to get dated in the outside lounge there are broken class panels and floor tiles that dont give a good overall impresion i would stay again
---
Nice hotel in good location,nice rooms with good view from balcony,pool is small,breakfast is very poor.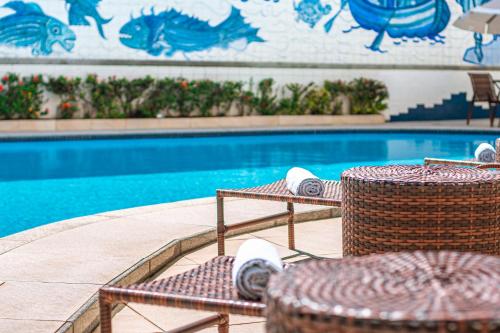 ---
Very interesting hotel for families and people who would like some calm. Also interested if you would like to profit from the beach.
---
this hotel is located beside the sea. you can see the atlantic ocean when you open the window, no matter you are in business or vocation trip, it is really an enjoyment. this hotel is equipped with good swimming pool and buffee.
---
This hotel is a real family hotel with the beach at the opposite of the street. Close to the Hotel you will find various places to eat or just to take a drink. Please watch your belongings!! I was sitting on a terrace one day and took out my sneakers under the table (it was hot). While talking a boy took one of my sneakers away and when I found out that I had only one ...
---
Nice location by the sea and sea views from many rooms, facilities quite basic but adequate, and not far from the neighborhood of Rio Vermelho, which has many good bars and restaurants. Particularly enjoyed sitting on the rooftop for breakfast
---
I just stayed 1 night for budget, however, I got the all night of Salvador in the hotel...... beautiful building with a pretty terrace, nice breakfast and restaurant, kind service...... Plus, it is the best location to enjoy safe and fun night culture(dancing, sining and so on) I strongly recommended here to you!
---
Luxury hotels in Vitoria
---
absolutely I would not recommend to stay in this hotel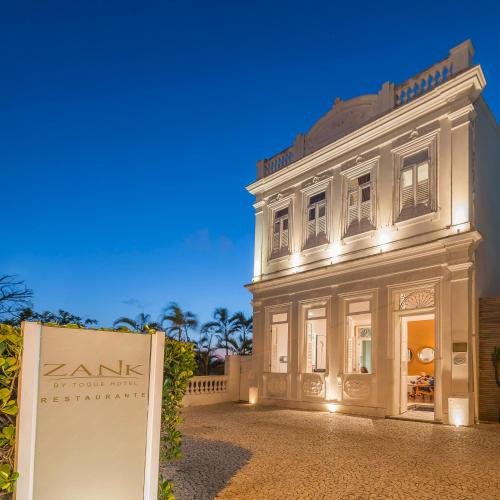 ---
Very nice and quiet hotel in a bohemian neighborhood in Salvador. It was a bit difficult to find and get to by car due to the many road construction sites all around (Nov.2015). The hotel provided parking which was a plus. Breakfast was excellent with a combination of buffet and a la carte. The rooms are nice but not awesome. We would not hesitate to come back. TIP: we...
---
More about Vitoria
Discover the Fun Facts of Vitoria in Salvador, Brazil
Vitoria is a neighborhood located in the city of Salvador, Brazil. It is a historic neighborhood known for its cobblestone streets and colorful colonial houses. Vitoria is also home to several museums, including the Afro-Brazilian Museum, which showcases the history and culture of Afro-Brazilians. Another interesting fact about Vitoria is that it is home to the largest carnival block in Salvador, called "Filhos de Gandhy." This carnival block is known for its traditional white robes and turbans and attracts thousands of people every year.
Top Reasons Why Vitoria Should Be Your Next Travel Destination
There are several reasons why Vitoria should be your next travel destination. First and foremost, it is a neighborhood steeped in history and culture. Visitors can explore the colonial architecture and visit the museums to learn about the Afro-Brazilian culture. Vitoria is also home to several parks and gardens, including the Jardim de Alah, which is a popular spot for joggers and picnickers. Another reason to visit Vitoria is its proximity to some of Salvador's best beaches. The neighborhood is located near the Barra Beach, which is a popular spot for swimming and sunbathing. Visitors can also take a short bus ride to other nearby beaches, such as Flamengo Beach and Itapua Beach.
How to Get to Vitoria: Your Ultimate Travel Guide
The easiest way to get to Vitoria is by taking a taxi or an Uber from the Salvador International Airport. The ride should take about 30 minutes, depending on traffic. Visitors can also take a bus from the airport to the city center and then transfer to another bus to Vitoria. However, this option is not recommended for first-time visitors as it can be confusing and time-consuming.
Fun Things to Do in Vitoria: A Comprehensive Guide
There are plenty of fun things to do in Vitoria. Visitors can start by exploring the neighborhood's historic center and admiring the colonial architecture. The Afro-Brazilian Museum is also a must-visit for those interested in learning about the culture and history of Afro-Brazilians. For those who enjoy the outdoors, the Jardim de Alah is a great spot for a leisurely stroll or a picnic. Visitors can also take a short bus ride to the nearby beaches and enjoy a day in the sun. Another fun activity in Vitoria is to attend the Filhos de Gandhy carnival block. This is a unique cultural experience that should not be missed. Visitors can join the block and participate in the parade or simply watch from the sidelines.
Why Book Your Vitoria Accommodation with Agoda.com?
Agoda.com is the best place to book your Vitoria accommodation for several reasons. First and foremost, it offers a wide range of hotels to suit every budget and preference. Visitors can choose from luxury hotels, budget hostels, and everything in between. Agoda.com also offers competitive prices and special deals that can save visitors money on their accommodation. The website is easy to use and allows visitors to filter their search results by price, location, and amenities. Finally, Agoda.com offers a secure and hassle-free booking process. Visitors can book their accommodation online and receive instant confirmation of their reservation. If any issues arise, Agoda.com's customer service team is available 24/7 to assist visitors.
The Best Time to Visit Vitoria: A Seasonal Guide
The best time to visit Vitoria is between March and May, which is the shoulder season. During this time, the weather is warm and sunny, and there are fewer crowds than during the peak season. Visitors can enjoy the beaches and outdoor activities without having to deal with the crowds and high prices of the peak season. The peak season in Salvador is between December and February, which is the summer season. During this time, the weather is hot and humid, and the beaches and tourist attractions can be crowded. Visitors should expect higher prices for accommodation and activities during this time. The low season in Salvador is between June and August, which is the winter season. During this time, the weather can be rainy and cool, and some tourist attractions may be closed. However, visitors can find great deals on accommodation and activities during this time.
Expert Tips for Travelers Visiting Vitoria for the First Time
For travelers visiting Vitoria for the first time, here are some expert tips to make the most of your trip: - Wear comfortable shoes as the neighborhood's cobblestone streets can be uneven and difficult to walk on. - Be aware of your surroundings and avoid walking alone at night. - Learn some basic Portuguese phrases as not all locals speak English. - Take a taxi or an Uber at night instead of walking or taking public transportation. - Try the local cuisine, including acaraje, a popular street food made with black-eyed peas and shrimp.
Where to Stay in Vitoria: A Guide to the Best Neighborhoods
Vitoria offers several great neighborhoods to stay in, depending on your budget and preferences. The historic center is a popular choice for those who want to be close to the museums and colonial architecture. The Barra neighborhood is another great option, as it is located near the beach and offers plenty of restaurants and nightlife. For those on a budget, the Rio Vermelho neighborhood offers affordable accommodation options and a vibrant nightlife scene. The Pelourinho neighborhood is also a great option for budget travelers, as it offers plenty of hostels and guesthouses.
What to Eat in Vitoria: A Foodie's Guide to Local Cuisine
Vitoria is known for its delicious local cuisine, which is a mix of African, European, and indigenous influences. Some of the must-try dishes include acaraje, a popular street food made with black-eyed peas and shrimp; moqueca, a seafood stew made with coconut milk and dendê oil; and feijoada, a hearty bean stew. Visitors should also try the local fruits, such as mangoes, papayas, and guavas, which are often used in juices and smoothies. For dessert, be sure to try the brigadeiro, a chocolate truffle that is a favorite among Brazilians.
Getting Around Vitoria: Transportation Options for Tourists
Vitoria is a relatively small neighborhood, and most attractions are within walking distance of each other. However, visitors can also take public transportation, such as buses and taxis, to get around. The buses in Salvador are operated by several different companies, and it can be confusing for first-time visitors to navigate. Visitors should ask their hotel for advice on which bus to take and where to get off. Taxis and Ubers are also available in Salvador, and they are a convenient option for those who prefer not to take public transportation. However, visitors should be aware that taxis can be expensive, especially if they are traveling during rush hour or at night.